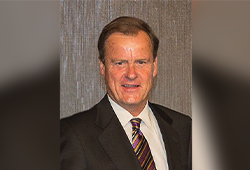 Mary touches hearts. Such is the belief of a native of Western New York, Tom Sheehan, who now serves as Dealer Principal of Sheehan Buick GMC in Pompano Beach, Florida.
As a boy, Tom would occasionally accompany his father to Mass at OLV Basilica, Father Nelson Baker's heart-felt gift of appreciation to the Blessed Mother. Those visits were the beginning of a growing devotion to Mary and, to this day, she is the focus of Tom's prayers. She guides and inspires him.
Whenever he returns to the area, Tom is sure to make a trip to the Basilica, wherein he feels Mary's warmth leading him to God. It's something pilgrims and visitors to the shrine are sure to experience. And so he encourages all to visit this sacred space!
"When I step out of the car and see the Basilica and walk in the doors, a glow comes over me. I know that Mary is always there and she never leaves."
Celebrating the Basilica's centennial speaks to Tom about God's strength given to the world. Such a historic milestone also shows the strength of Father Baker's legacy and ministry.
"In addition to promoting devotion to Mary, it's all about the children. OLV's purpose is to be a loving support to children in need," says Tom. "I wish people had a greater awareness of the work of the institutions. Then, just as Mary cared for the child Jesus, I am sure they would participate in God's work of helping children and families."
So, even though he lives hundreds of miles from his home-away-from-home, OLV National Shrine & Basilica, Tom continues to share his passion for the place with anyone who feels as strongly as he does. Thanks to him and the many other friends and benefactors around the nation who continue to "wave the flag" for OLV!