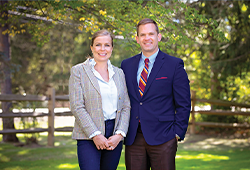 National Ambassador Profile
Ohio Family Prays for Victory & Finds OLV
Amid a very competitive business industry, Bobby Kovey sought God's guidance to ensure his ethics and morals were always the top priorities of his work within the family business he and his wife, Haley, had built.
He was praying for a victory. It occurred to him that one of Mary's titles is Our Lady of Victory, so he committed to a year-long novena praying for her intercession. After a Google search, he found OLV National Shrine & Basilica and its sister organizations, OLV Charities and OLV Human Services.
And so began Bobby and Haley's support of Venerable Nelson Baker's legacy.
"I always wanted to do more than just run a business. I wanted to have a purpose and devote myself to God's mission and constantly give back," says Bobby. "Once I learned Father Nelson Baker's story, I immediately wanted to emulate this holy man."
Bobby and Haley's passion and commitment to our mission of caring for the needs of thousands of children, teens, and families have grown each year during their annual summer pilgrimage to visit the Basilica and tour OLV's campus. They continue to have a greater appreciation for the work of OLV Human Services, assisting youth and families through its foster care programs and vocational initiatives for those with special needs.
Thank you to Bobby and Haley and all those who share Father Baker's story and the important mission of OLV!
As National Ambassadors who recently relocated from Columbus, Ohio, to the Greater Cleveland area, Bobby and Haley welcome the opportunity connect with other friends of OLV. If you are interested, please contact the Mission Advancement Office at [email protected] or call (716) 828-9610.